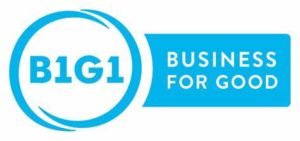 Your participation in the '50-at-50 Movement', will contribute directly to initiatives that foster good health and well-being, providing vital resources, healthcare services, and support systems to communities worldwide.  When you sign-up to join our 50-at-50 Movement, through a B1G1 project, your giving starts.  
That's right, once you sign-up, you can select an impact project right away.
Let us unite on this special occasion to improve our physical and mental fitness, and simultaneously empower others through our support of B1G1. Together, we will leave a lasting impact, fostering a world where well-being and giving create positive change.
Here's how the giving works:
1.  Sign-up to join the 50-at-50 Movement HERE.
2.  You will be redirected to select your giving impact project at the end of the sign-up process.
3.  After you have selected the project, the giving will take place automatically (check the counter to see your impact!!)
*Bookmark the giving page and return to give and make several impacts!